Countdown: 7 days to Vienna Fashion Week 2011
Photo credit: Joachim Haslinger
Assistant: Florian Mair | Fashion by ep_anoui | Model Nadine Wolfbeisser | Production, Make-up & Styling by Sergej Benedetter | Hair by Mario Gutmann | Retouch by Andreas Furtner
Hi, New York, London and Berlin have one. And since 2009 Vienna is also among the major cities devoting an entire week to our fashion designers and calling that week "Fashion Week".
The official goal of the week is to bring potential buyers (retail and wholesale) together with talented fashion designers, but the event also creates exposure and excitement (good for marketing ;) and most shows are also open to the public (if you managed to get a ticket of course).
About 70 national and international designers are participating this year, most of them have established a niche market in Austria and run their own fashion shop in Vienna.
If you have not bought a "VIP ticket" you can even risk not getting into the fashion tent because of the run on the popular prime time shows.
I will try to keep you updated on my Facebook Page next week. So stay tuned!
Fashion Blogger Side Events
FashionCamp Vienna
Saturday, Sept 10th 2011
@ The Hub Vienna
Fashion Blogger Lunch
Friday, Sept 16th 2011
@ 25hour Hotel
MQVFW11 Fashion Shows
Wednesday, Sept 14th
17.00  Rebekka Ruetz
18.00  Bipone
19.00  Michel Mayer
20.00  Elfenkleid
21.00  ep_anoui by Eva Poleschinski
22.00  Cindy Steffens
Thursday, Sept 15th
16.00  Angel of Pleasure
17.00  Studio B3
18.00  Maldoror | Agata Wojtkiewicz | Natalia Jaroszewska
19.00  Andy Wolf | Superated
20.00  Callisti
21.00  Andreea Tincu
22.00  Manufaktur Herzblut
Friday, Sept 16th
15:00  nelou.com Fashion Show
16.00  Pitour | Wandelbar
17.00  Shakkei
18.00  Liniert
19.00  Kayiko
20.00  Tiberius
21.00  Etxeberria | Krizia Robustella
22.00  Edith A'Gay | And_i
Saturday, Sept 17th
15.00  R! by Dominique Raffa | Ruins of Modernity | Valentina Azizova
16.00  Göttin des Glücks
17.00  km/a | Aquanauta | Nubu
18.00  NEON | Fabio Gurjao
19.00  Anelia Peschev
20.00  Maibe | Mosstories | Dusk till Dawn | Wonder Anatomie
21.00  Marcel Ostertag
22.00  Lena Hoschek       
Sunday, Sept 18th
15.00  Ina Kent
16.00  Veni Creatrix
17.00  Art point
18.00  Artista | Konsanszky
19.00  Sabine Karner
20.00  Gola Zumbulidze |Tamara Kopaliani
21.00  Urban Fashion Night by Mario Soldo
After Show Parties
Wednesday, Sept 14th
21.30 [ep_anoui] @ MQ Fashion Lounge (Invite only)
Thursday, Sept 15th
19.00 Rebekka Ruétz @ Senses
20.30 Callisti @ MQ Fashion Lounge
22.00 Tingel Tangel & LILA @ Rote Bar
Friday, Sept 16th
20.30 Kayiko @ Kayiko Shop
21.00 TIBERIUS @ Le Meridien
22.00 Look Models Clubbing hosted by EDITH A'GAY @ Passage
22.00 Clubside Down | Philipp Van Het Veld + DJ Bektobek @ Salon Leopold
23.00 FUCK me NOW & LOVE me LATER @ Säulenhalle Volksgarten
Saturday, Sept 17th
21.00  Official MQ VIENNA FASHION WEEK 11 Party
@ Pratersauna
Sunday, Sept 18th
20.30 Urban Fashion Night hosted by motheragency
Official MQVFW11 Closing Party
@ MQ Fashion Lounge
Cover Shooting by Joachim Haslinger
Photo credit: Joachim Haslinger | Assistant: Florian Mair | Fashion by Thomas Kirchgrabner, ep_anoui, Anelia Peschev and Mangelware | Model Nadine Wolfbeisser | Production, Make-up & Styling by Sergej Benedetter | Hair by Mario Gutmann | Retouch by Andreas Furtner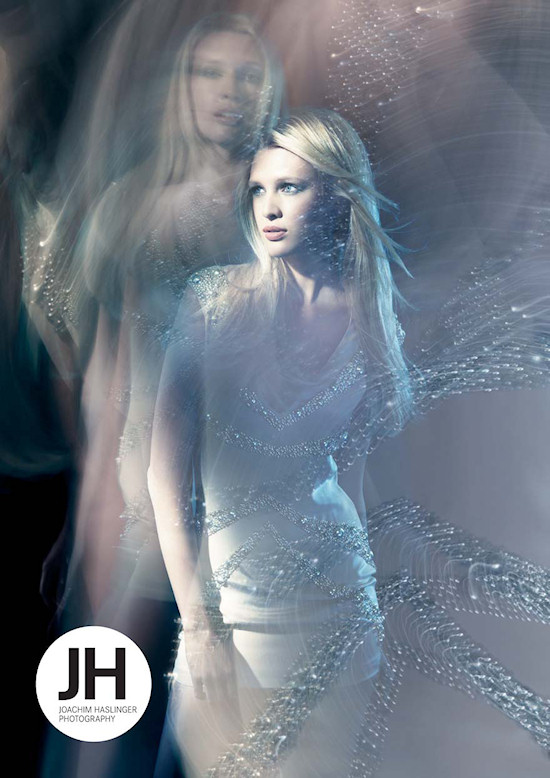 Official Website
MQ Vienna Fashion Week
Photo stream on Facebook
Vienna Fashion Week 11 Video Stills
Related stories
MQ Vienna Fashion Week 10
FashionCamp Vienna 2010: Video Summary
CALLISTI Gladiators and Concubines
Comments ❤ ❤
Add ❤ comment: