Twelve creative figures of Vienna are going to be awarded, tonight. Watch the live stream starting at 7 p.m. (18:00 UTC) from the Vienna Awards for Fashion and Lifestyle.
Model Barbora S. | Photo credit: Mato Johannik for Vienna Awards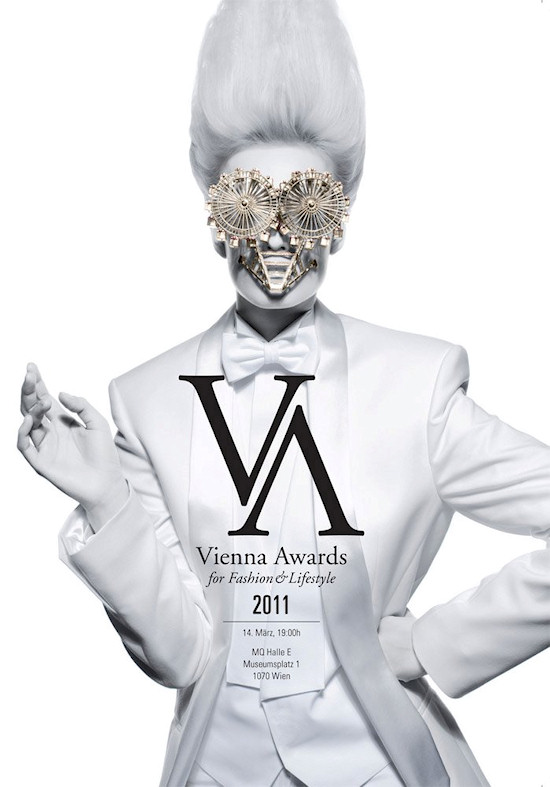 Live Stream on Facebook
Vienna Awards, starting at 7 p.m. (2011-03-14 18:00 UTC)
Hi, take a second look at the cool poster above, there is a symbol of Vienna hidden, do you know which?
I am already looking forward to the Vienna Awards gala, which is taking place tonight. Unlike the Austria Fashion Awards, which focus more on the fashion designers, the Vienna Awards also recognize the creative people, who are often forgotten, but an important part of the fashion industry: the models, hairdressers, stylists, and fashion journalists.
Unfortunately, no blogger is nominated this year, but I think this will change in the coming years considering the growing relevance and creativity coming from bloggers. But wait, at least one blogger (Maria from Stylekingdom) is part of the awards jury and the online platform austrianfashion.net is also nominated. So the new media is already represented.
Here are the nominees in the twelve categories. I will mark the winners tonight, where there is more than one ;)
Designer Branding
Gebrüder Stitch (winner)
Tiberius
superated
Tribute to Fashion & Lifestyle
Fashion Journalist
Stephan Hilpold (winner)
Austrian Fashion.net
Hans Stephan Grasser
Hair Stylist
Alexander Moser (winner)
Hannes Steinmetz
Bertram Kainzner
Stylist
Yoan Gonfond (winner)
Thomas Reinberger
Britta Burger
Makeup
Ana Prokop
Christine Sutterlüty
Thomas Lorenz (winner)
Accessory Designer
Julia Cranz
Nina Peter (winner)
Tiberius
Photographer
Jork Weismann (winner)
Maria Ziegelböck
Michael Dürr
WKO Special go international
Model
Designer of the Year
Claudia Brandmair (winner)
Eva Poleschinski
Doychinoff
Style Icon
Vienna Awards 2011
Already looking forward to tonight, and the shows of Tiberius and Doychinoff :)
Photos Patrick Kafka, Winner Category Model (via models.com)
One Austrian Schoolboy
RONDO Cover Nov 09
Related Stories
Vienna Awards 2010: [se'lekt] Runway Fashion Show
Austria Fashion Awards 2010
Doychinoff | Tiberius
Show video
Tiberius Vienna Awards 2011
Add ❤ comment: