I'm wearing John Galliano, but the socks are from K-Mart! — Sacha Baron Cohen as Admiral General Aladeen in a funny interview with Ryan Seacrest.
Photo credit: Heather Ikei © A.M.P.A.S.
Hi, comedian and actor Sacha Baron Cohen is always good for a joke and knows how to break the strict Red Carpet dress code ;)
Spoiler alert, watch the funny interview with E! News reporter Ryan Seacrest before continue reading.
Video credit: E! Entertainment
Ryan Seacrest in Burberry suit interviewing comedian Sacha Baron Cohen, who appeared in uniform, carrying the fake ashes of Kim Jong-il, and with a brigade of female bodyguards in tow.
*lol* I love the stunt of Sacha Baron Cohen and how he managed to appear in uniform on the Red Carpet. Before the Oscars there was a controversy between him and the Academy, who first wanted to ban him from the Oscars, but finally agreed to let him come as General Aladeen, as the character of his upcoming movie The Dictator, if he changed clothes and wore a black tuxedo for the Oscars ceremony, but Sacha later preferred to go to Vanity Fair's viewing party after his stunt.
Sacha was also one of the leading characters in the film Hugo, playing the awkward and funny station inspector.
Was his prank on Ryan disrespectful? In my opinion, no, it was not too disrespectful (he did not spill the ashes on another artist or on a dress that is hard to change or clean, for example) and Ryan also reacted in a cool manner. After all this is the show business and Sacha did what everybody else was doing on the red carpet, promoting themselves and their movies.
The Dictator Trailer
Video credit: Paramount Pictures via the Republic Of Wadiya ;)
The Red Carpet Dictator
Sacha Baron Cohen as The Red Carpet Dictator.
Photo credit: Heather Ikei © A.M.P.A.S.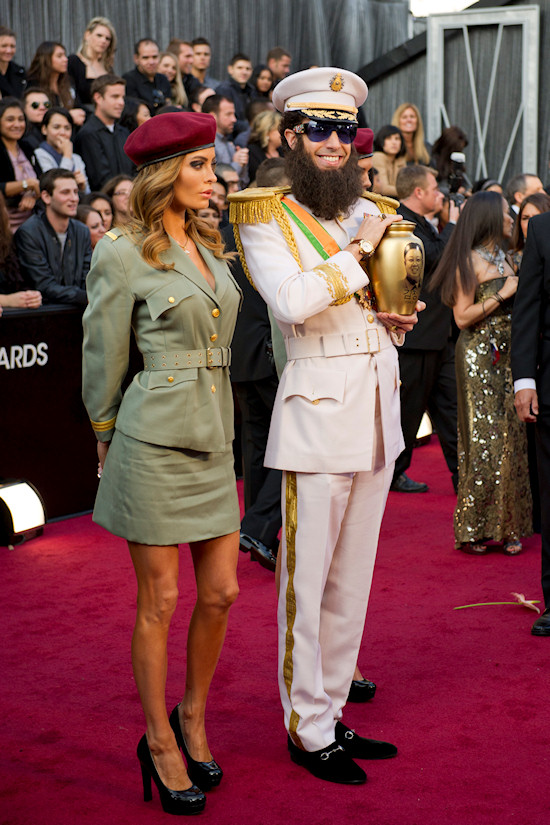 Photo credit: Heather Ikei © A.M.P.A.S.
Photo credit: Heather Ikei © A.M.P.A.S.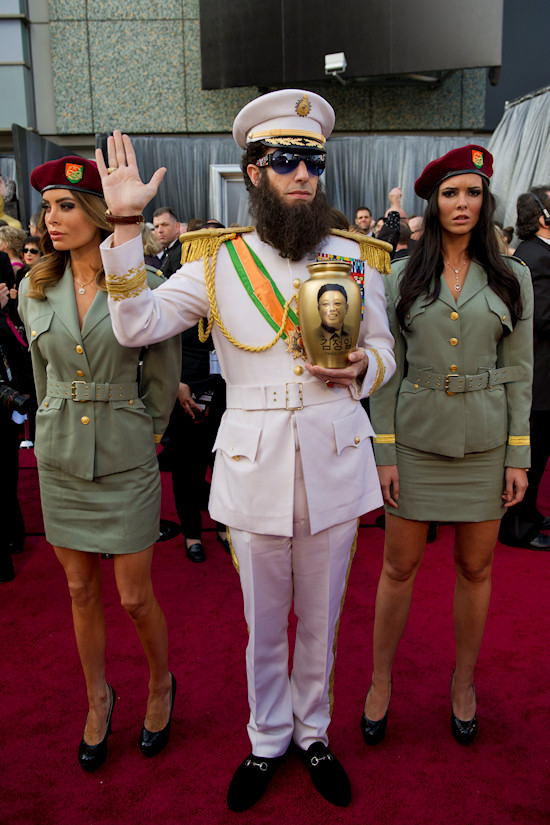 How do you like Sacha's red carpet stunt?
All photos courtesy of
Academy of Motion Picture Arts and Sciences
Oscars 2012
12 Facts
From Legbombing To Bustbombing
Oscars 2011
The Dress Code, Decoded
Add ❤ comment: