Cool, Chic in a CLICK! The new Links á la Mode TECH list is here! A link list of tech-related blog posts made by geeky Independent Fashion Bloggers like me ;)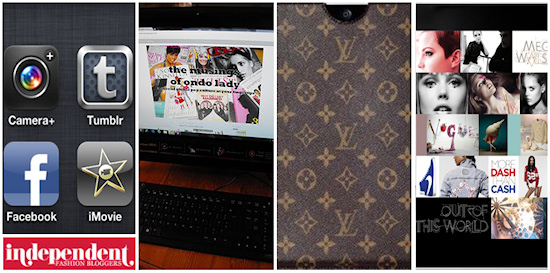 Hi, I am happy to be part of the new IFB TECH list with my New Blog Design and Zune Test post :) By the way, Zune is not dead, but a really nice music player, and is now also part of Windows Phone 7 and Xbox.
I was quite surprised how many fashion bloggers are also geeks, but you do not need to be one to be a good blogger. I think it is more important to be a good all-rounder, because as a blogger you do not have a big organisation in the background and so you basically start to do everything by yourself (which is also fun), be it writing the stories, researching the facts, making pictures, videos, marketing, seo or even writing, designing or customizing your own blog Web site. But it certainly helps to be a geek, sometimes ;)
Links á la Mode: TECH
Edited by Christen Rochon
It's the best part about the ever-changing age of technology – It's fashionably evolving, it's no longer cut, dry and unattractive! It is translated differently by everyone, it's mysterious, fashionable and chic. It's infused in everything we do in many respects and this week's Tech Links a la Mode highlight that whether your tech interest is simply blogging related, gadget-trend related or fashion related, it is very much ownable and deeply personal.
I'm excited to be apart of IFB and the inaugural editing of the IFB Links a la Mode: Tech, looking forward to seeing everyone's tech posts throughout the year!
TECH March 15th
If you are an IFB member and would like to submit a link, the related group is quite hidden and called Chic Geek ;)
Add ❤ comment: