It's the Halloween season, when some of us choose to experience the thrill (or horror) of looking nothing like ourselves for a night. One night where you turn in "looking good" for looking scary, time period-accurate, or just … a little sexier than usual. — Independent Fashion Bloggers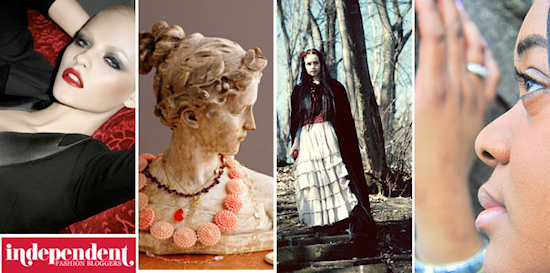 Hi, discover another selection of inspiring blogs from around the world in this week's Independent Fashion Bloggers' link list.
Halloween is also a very good time and opportunity to crossdress and to experience your fantasized role with a costume, without being afraid of coming out or confusing your friends and neighbors. Conduct your fashion experiment, be sexy and enjoy collecting reactions. Happy Halloween!
Costume Drama: A Break From All Things Outfit
Edited by: Holier than Now
For those of you who blog or socially post your outfits, perhaps it's a chance to take a break from the judgmental eye of the spotlight (consider Love Brown Sugar and One More's pieces on the subject). Find last minute costume inspiration from Tickle Me Chic and more.
And for those of us who don't celebrate the witching hour, there's still a chance to step away from the closet and remind ourselves that great lingerie, shoes, bags, and jewels can make even a white tee and jeans look scary good.
Add ❤ comment: