People worldwide experience pressure to conform to specific, often commercially created, ideals of beauty. Christopher, 22, examines his chest after a waxing treatment to remove hair in a New York beauty salon. — World Press Photo, Contemporary Issues 3rd prize singles
Photo credit: Zed Nelson, United Kingdom, for INSTITUTE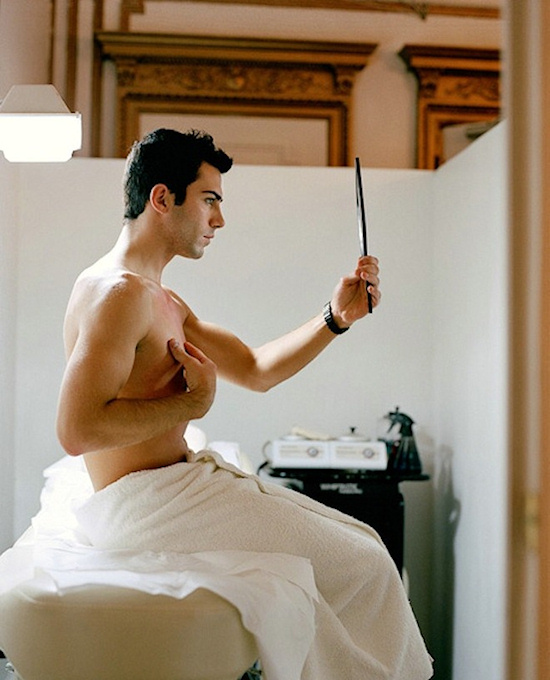 Hi, while the dominating photos, which are likely to keep in mind from a World Press Photo exhibition, are related to our world's tragedies such as war, poverty, and disasters, there are also several side categories focusing on different topics.
In this year's exhibition I would like to highlight Zed Nelson's multiple awarded and beautiful photo, depicting a facet of our beauty industry.
The photo is part of a series of pictures published in Nelson's book Love Me, a photographic essay about our obsession with youth and beauty, and the globalization of beauty ideals.
It is a very interesting and multi-faceted debate in my opinion, and it is difficult to answer where the true problem lies, in the industry, media, lack of values, lack of supporting self-confidence and individuality, broken famalies, mass population, or in the too rapid technological, economical and cultural development?
I think it is ok and important to have role models and ideals, but having only enforced stereotypes is the opposite of good.
From a very high level point of view, there are many more important factors than one's physical appearance, yet a myriad of scientific studies have reported, it is still important in our social everyday life. Sure, I also want to look good and conform to social norms in a constructive way in order "to avoid unpopularity" (Alain de Botton) and being able to find a partner, appreciation and love, which gets more difficult, the more unpopular and unconventional you are. However, without diversity we would not be able to exist and evolve, and before blaming the industry and others, I think we should look at ourselves, do I respect the stranger, the different, the uncommon?
World Press Photo 10 Vienna Exhibition
October 7th – November 4th 2010 @ Galerie Westlicht (Westbahnstr 40)
Open daily 11 am – 7 pm (9 pm on Thursday)
Comments ❤ ❤ ❤ ❤ ❤ ❤
Add ❤ comment: