Photo credit: Annie Leibovitz, 1990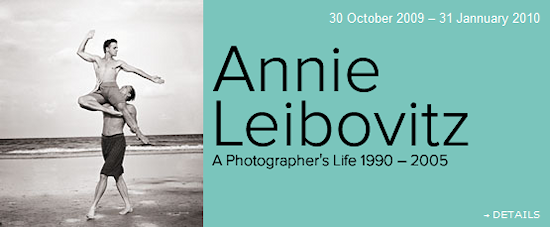 Hi, this is my first Facebook adventure, a collective visit to the Annie Leibovitz exhibiton in Kunst Haus Wien in order to see her highly acclaimed photos.
The exhibition was a mix of Leibovitz commerical work between 1990 and 2005 (mostly celebrity portraits) alongside with small snapshots of her private life, showing the birth of her three children (her twins were born by a surrogate mother in 2005) and the death of her partner Susan Sontag and her father.
I focused on her portraits, though. My favorites were George Bush next to Michael Moore (what a contrast), Nicole Kidman (portraited as a diva) and Jack Nicholson (playing golf on a roof top). I also found an early photo of Bill Gates, working in his office.
Annie Leibovitz is probably the best paid photographer in the world, but got into serious financial trouble recently due to her love for real estate and "personal issues".
The exhibiton in Vienna is open till 31st January 2010.
Add ❤ comment: