Vienna has a new fetish event! Rubber & Ambrosia launched last weekend in Residenz Zögernitz targeting a fashion-minded audience. Highlights of the first FETISH FASHION BALL were the special fire, bondage, latex & burlesque show program, while serving food and drinks to the latex hungry party guests. In this post: My LATEX show & ball outfit by RubbErik :)
Photo credit: Rubber & Ambrosia
Hi, I often hear the complaint that there are too little fetish parties in Vienna, but this is changing with a new ambitious project by Wolfgang, who organized the first Rubber & Ambrosia Fetish Fashion Ball last weekend.
I am excited to tell you that I modelled in one of its special shows in a lovely latex outfit by RubbErik :) I played the butler/maid in Erik's show and my order was to bring the other models some nice "accessories" on a tray. Unfortunately, I had forgotten one (by plot), but Tom rescued me in the end ;)
Erik started his own label recently, and is a latex designer and manufacturer in Vienna. His new showroom is located in Schönbrunner Straße 82. Pay him a visit, he is very friendly and can make a gorgeous, fitting latex outfit for you!
What was a bit unusual for a fetish party, was the presence of an ORF team (our national public service broadcaster) and a special disclaimer on the party ticket, that photographing was allowed on this event. Some did not like that, because they rather prefered to stay anonymous, which I can understand. On the other hand, it reflects the new fashion orientation by Wolfgang, which I like, bringing Latex Fashion to a broader audience.
This brings me to the sad part of the evening. I have also taken some nice backstage and show pictures, which I had loved to show you here, but unfortunately my Sony NEX-5 camera was stolen in one of the backstage rooms while having it laid next to me on a dresser for a short moment :(
By the way the original concept of Rubber & Ambrosia was to have two dance floors hosted in Neuwaldegg Palace (Electronic Heaven and Gothic Hell), but unfortunately the Gothic dance floor was too small because of an unexpected relocation of the event about a week ago.
Nevertheless, I enjoyed the night very much and hope that it will be continued.
Photo by Geoff Brook | Latex Fashion by RubbErik | Make-up by Merry | Hair by Steffi | Rose by Elias *Thanks*
RubbErik Latex Fashion Show
Photos by Hitchy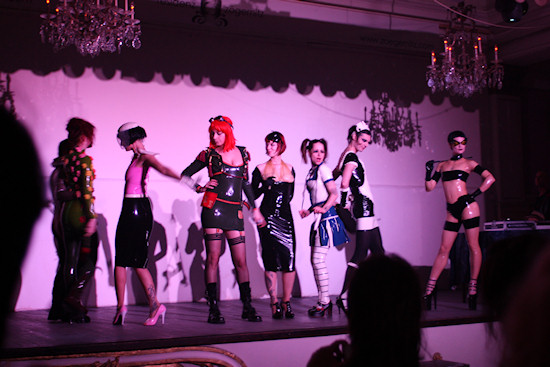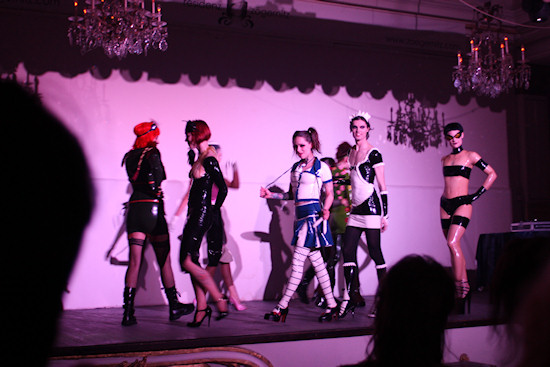 ORF Frühlingszeit [Videos]
Latex Manufaktur Simon O
Fetish Ball (on Facebook)
Fetish Fashion Ball
Rubber & Ambrosia
Latex Designer
RubbErik
Add ❤ comment: