Fashionable Queens is an academic symposium at the Campus of the University of Vienna focusing on the fashioning and (visual) representation of historical and contemporary "queens", such as female politicians, royal stars, and queen-like fashion bloggers.
Friday, 3rd and Saturday, 4th of December 2010
Organizers Eva Flicker and Monika Seidl
Photo credit: Fashionable Queens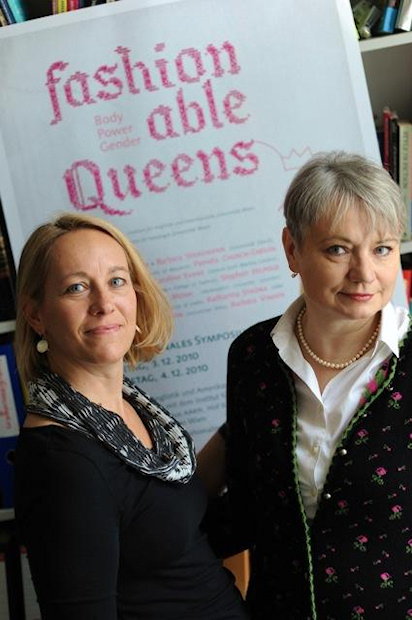 Hi, among the speakers of Fashionable Queens will be Stephan Hilpold, fashion journalist from the news paper "Der Standard", with the assumably provoking talk: The Queen's and King's new Clothes: How bloggers turned the fashion world upside down.
In this regard, I always find the blogger vs. journalist discussions quite funny, how the traditional media tries to differentiate themselves from bloggers (mostly in vain). I simply do not see many differences between journalists and bloggers any more. Also bloggers can do high-quality, influential work, even more so, if they do it because of love and passion, and not necessarily for money. Additionally, bloggers are also getting more professional and gain in number and popularity.
The second talk regarding bloggers will be held by Monica Titton recognizing the emergence of street style blogs, propagating "everyday fashion" and the "effortless chic".
The history of models will be told by Caroline Evans, who recently explained in an interview with Stephan Hilpold, that the first fashion models were actually male models, paid by couturiers to stroll through Paris in the designers' clothes in order to advertise for them.
The international symposium is a public event with no registration required and is jointly organized by the Department of English and American Studies and the Department of Sociology at the Univeristy of Vienna.
Fashionable Queens. Body – Power – Gender
December 3rd and 4th 2010
@ Unterrichtsraum UR
Department Of English and American Studies
Campus der Universität Wien, Hof 8
Spitalgasse 2-4, 1090 Vienna
Program
Friday, December 3rd 2010
09:30–10:00
Conference Opening
10:30–12:30
Dressing the First Ladies: The 1960s to the Present
Stella Bruzzi (University of Warwick)
Let them Go Shopping: Marie Antoinette on Screen
Pamela Church-Gibson (London College of Fashion)
12:30–14:00
Lunch
14:00–16:00
Lucile: Capricious in Couture
Amy de la Haye (London College of Fashion)
The Queen Stripped Bare: Luise of Prussia, Nudity Fashion and Political Iconography
Katharina Sykora (HBK Braunschweig)
16:30–18:30
Wearing Prada in the Renaissance: Queen Elizabeth I. and her Fashionable Portraits
Elisabeth Bronfen (Universität Zürich) and Barbara Straumann (Universität Zürich)
What Garbo did not do: Gender, Intellect, Power in the Body and Representations of Queen Christina of Sweden
Griselda Pollock (Universität Leeds)
Saturday, December 4th 2010
10:00–12:00
Majesty/Alchemy/Anarchy: Fashionable and Unfashionable Queens in Derek Jarman's Jubilee (1978)
Claire Monk (DeMontfort University Leicester)
Queens of the Catwalk: Fashion Models in the Modernist Period
Caroline Evans (Central Saint Martins London)
12:00–13:00
Lunch
13:30–15:30
The Queen's and King's new Clothes: How Bloggers turned the Fashion World upside down
Stephan Hilpold (Der Standard, Wien)
Dressed to kill: Cinematic Marie Antoinette
Barbara Vinken (Universität München)
15:30–16:00
Coffee
16:00–18:00
Costumes of Power: Female Politicians walking the Tightrope
Eva Flicker (Universität Wien)
The Reign of "Effortless Chic" – On Authenticity and Naturalness in Street Style Blogs
Monica Titton (Universität Wien)
19:00
Heuriger (visit to Austrian wine tavern)
Add ❤ comment: